Zetros solutions for the off-road sector
Our company has been a synonym for innovative and specialised vehicle construction since 1988 and is among the leading international manufacturers of tankers and silo vehicles as well as a wide range of other logistical superstructure solutions. As qualified partner of Daimler Trucks, we have developed into a specialist for Zetros superstructures thanks to our extremely robust and customer-specific solutions.
The highly customisable logistic solutions from Lindner & Fischer, together with the extremely off-road truck Zetros, prove their worth in the widest range of climatic zones and topographical conditions.
When it comes to Zetros superstructures, we are your flexible and reliable partner to solve the toughest off-road challenges.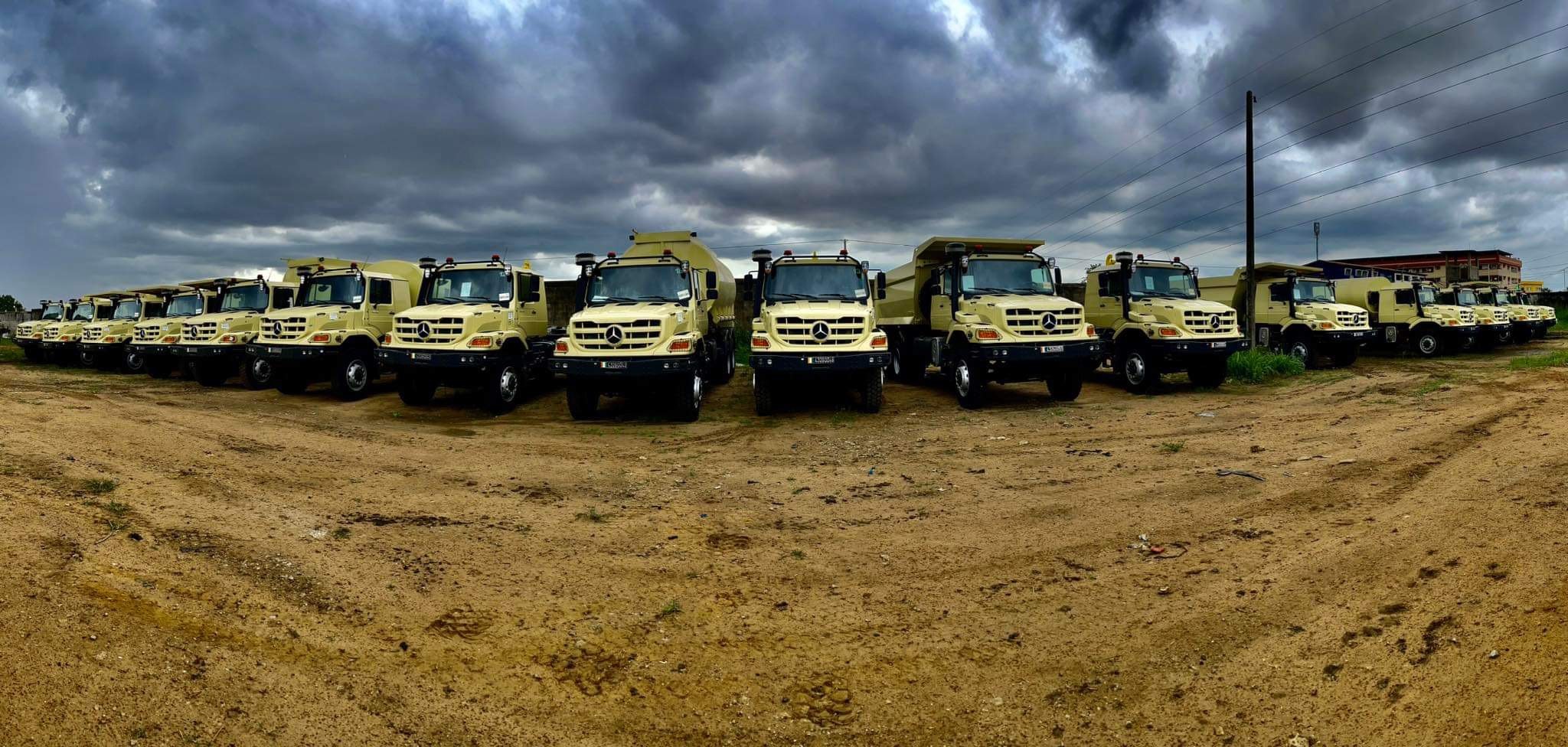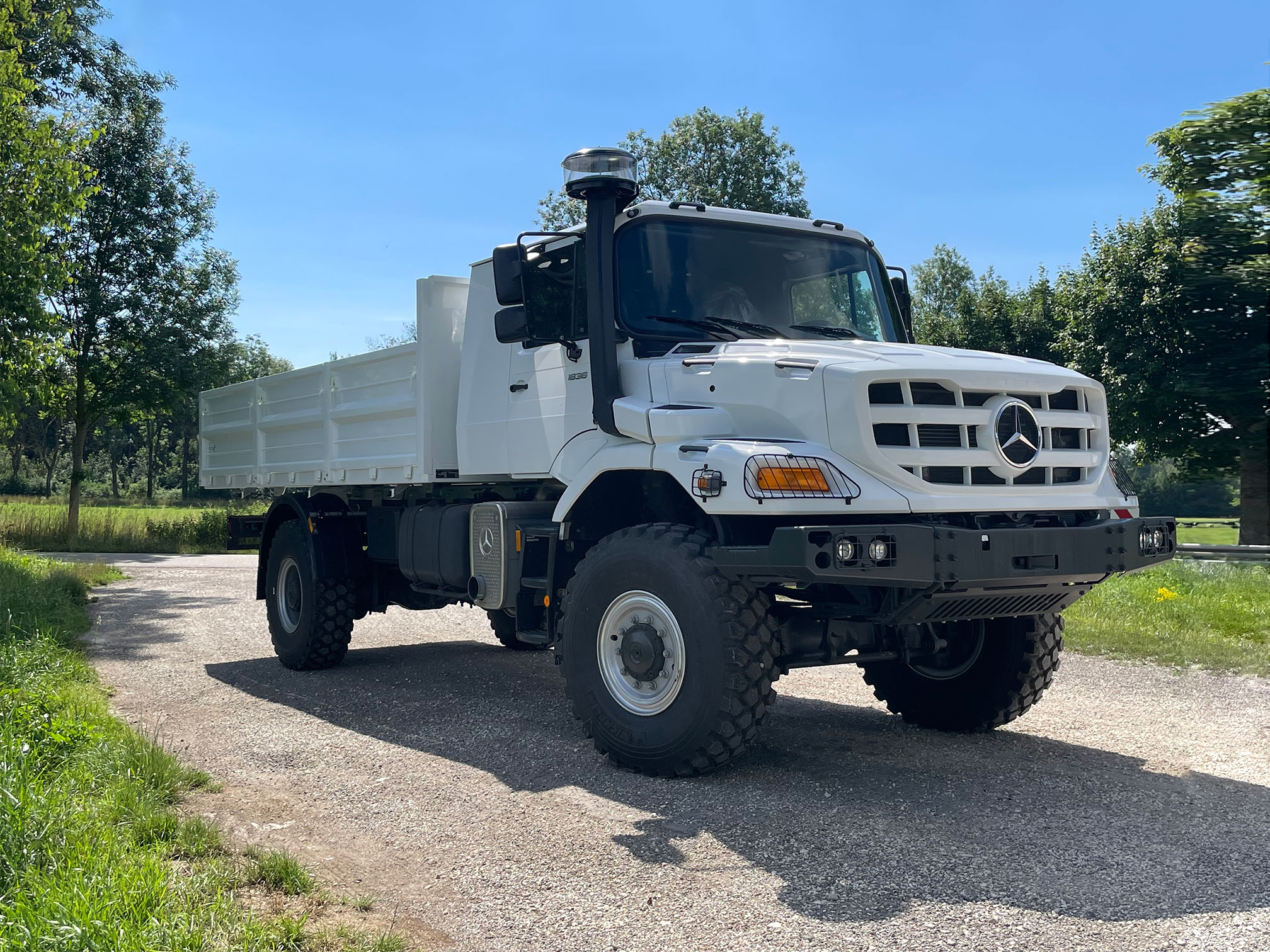 Characteristics & advantages with Lindner & Fischer
Custom configuration and tailor-made designs according to client-specific application
Maximum flexibility and robustness under the most difficult operating conditions due to the patented "L&F Low-Torsion Body Mounting System"
First-rate driving safety and stable handling – even when pushed to the limit
Integration of the most diverse superstructure systems, even in vehicles for difficult terrain and the highest mobility class requirements
Experienced competence partner in vehicle construction for the widest variety of superstructures
Highly customisable vehicles, particularly also with complex system integrations
Use of high-quality, corrosion-resistant materials
Processing of the widest array of raw materials (aluminium, steel, stainless steel) in tank construction for various application areas
Both single-item and serial production possible
Competent partners for complex procurement projects, central contact for a wide range of different logistics systems
Global customer and spare parts service via cooperation agreements and networks
Manufacturer service at three of its own locations in Germany
High project competence, flexibility and efficiency in procurement
Worldwide project experience in the most varied application areas and climatic zones
Superstructures Zetros product overview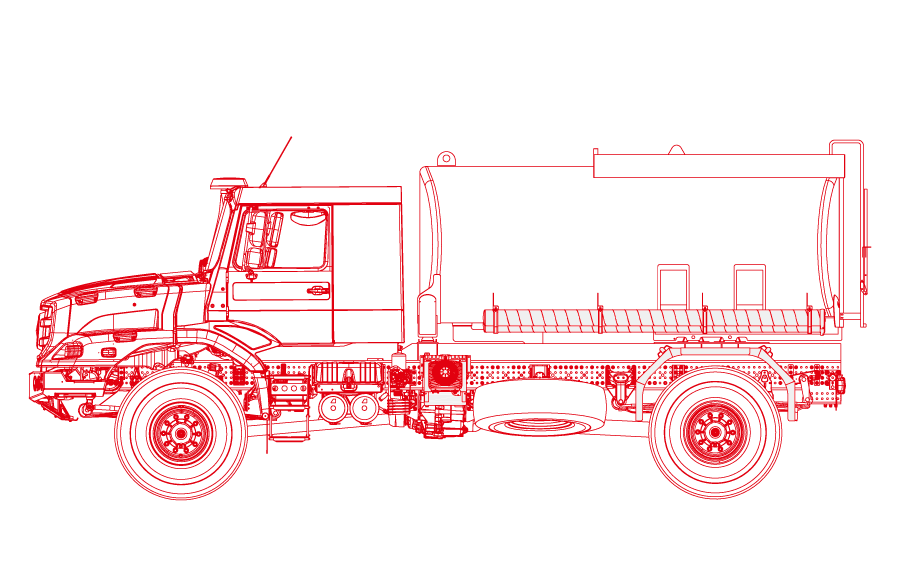 High-quality, corrosion-resistant materials (steel, stainless steel or aluminium)
Tank volumes of between 4,000 ltrs – 30,000 ltrs
International standards in the dangerous goods sector
Maximum versatility in on- and off-road use, thanks to patented high terrain-compatible tank bearing
Conventional connections such as Camlock, TW and Guillemin couplings
Different Pumps with a delivery volume of up to 1,000 ltrs/min.
Various different measuring systems, hose reels, different chamber divisions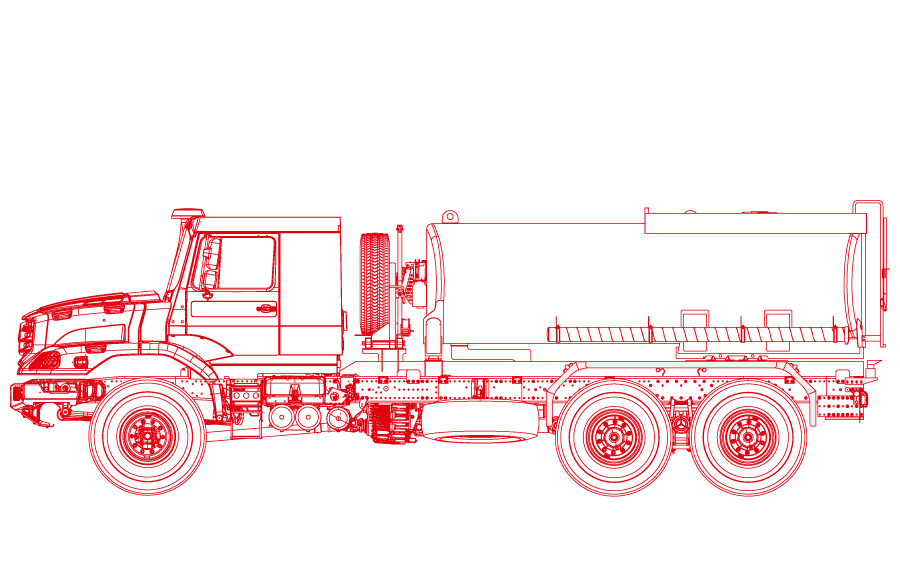 High-quality, corrosion-resistant materials (steel or stainless steel) as well as with or without additional internal coating
Tank volumes of between 4,000 ltrs – 30,000 ltrs
Version for drinking and service water
Maximum versatility in on- and off-road use, thanks to patented high terrain-compatible tank bearing
Conventional connections such as Camlock, Storz and Guillemin couplings
Different Pumps with a pump outputs of up to 3,500 ltrs/min.
Various spray bars, spray nozzles and monitors, high-pressure water pumps and other individual equipments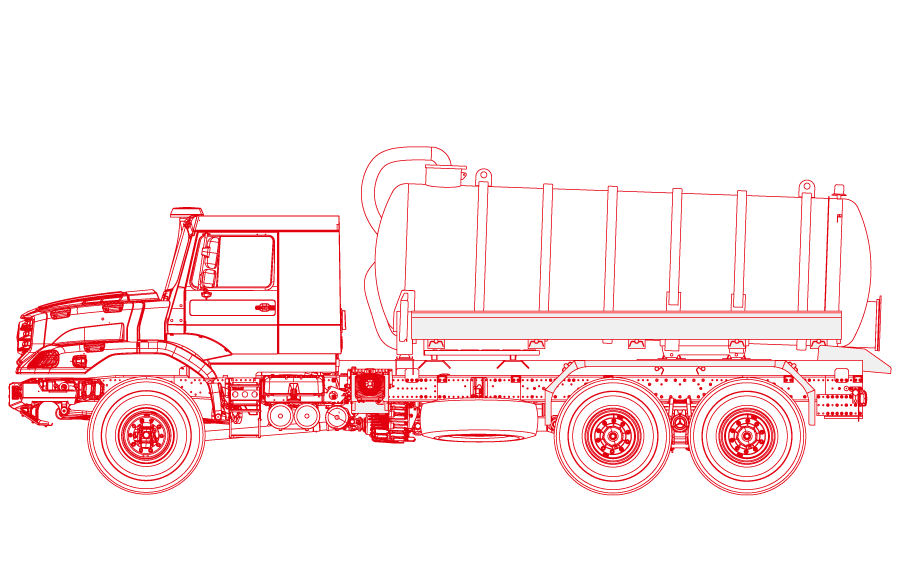 High-quality, corrosion-resistant materials such as steel (completely galvanised or with an epoxy interior coating) or stainless steel
Tank volumes of between 4,000 ltrs – 20,000 ltrs
Maximum versatility in on- and off-road use, thanks to patented high terrain-compatible tank bearing
Emptying via suction-pressure-vacuum or folding trunk lid
Also available as a combined version with a high-pressure flushing device
With air- and water-cooled vacuum pumps with an output of 420 m³/h – 2.000 m³/h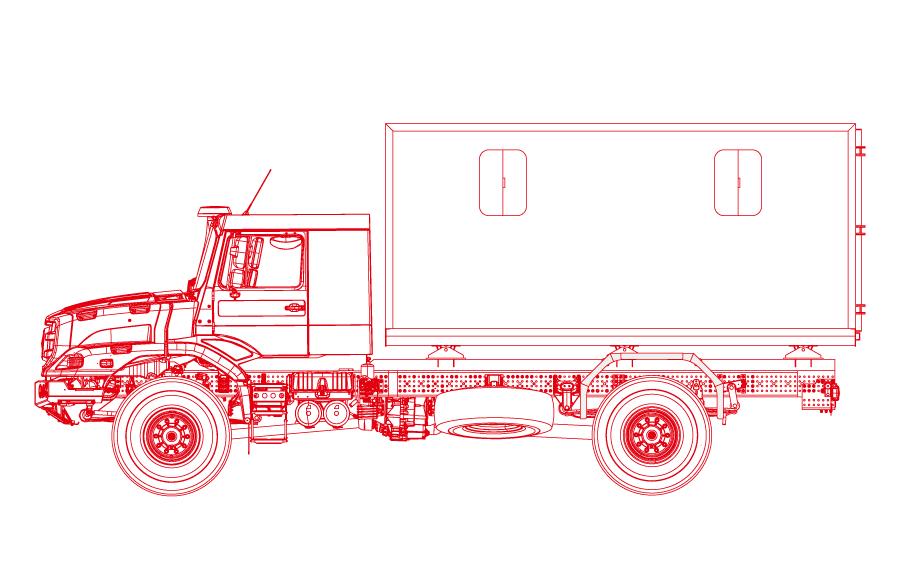 High wide range of variations, e.g. as a service vehicle, maintenance vehicle, lubrication vehicle, mobile workshop as a box, flatbed or tank version
Possible combinations of highly complex lubrication, water and fuel variants
Maximum versatility in on- and off-road use, thanks to patented high terrain-compatible structure bearing
All attachments and superstructures in robust steel design
Lubrication systems with pneumatic pumps, steel or stainless steel tanks, IPC containers or open drums
Delivery nozzles with integrated dial gauges, spring-assisted hose reels and high-pressure pumps for grease
Air compressors with a hydraulic drive or own diesel engine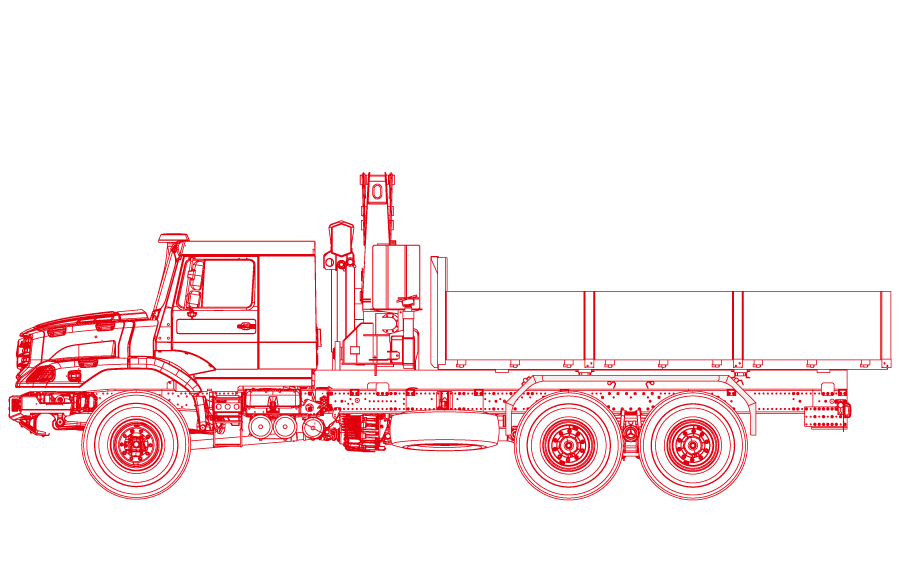 Maximum versatility in on- and off-road use, thanks to patented high terrain-compatible tank bearing
Platform with welded-on headboard, lashing points in the exterior frame, 4/6mm steel
All common crane manufacturers, such as Hyva, Palfinger, Fassi or Hiab up to 50MT
With or without foldable and removable steel side plates (drop side body) and, if desired, an additional removable tarpaulin superstructure
Container corners for 10ft or 20ft container loading even with steel side plates fitted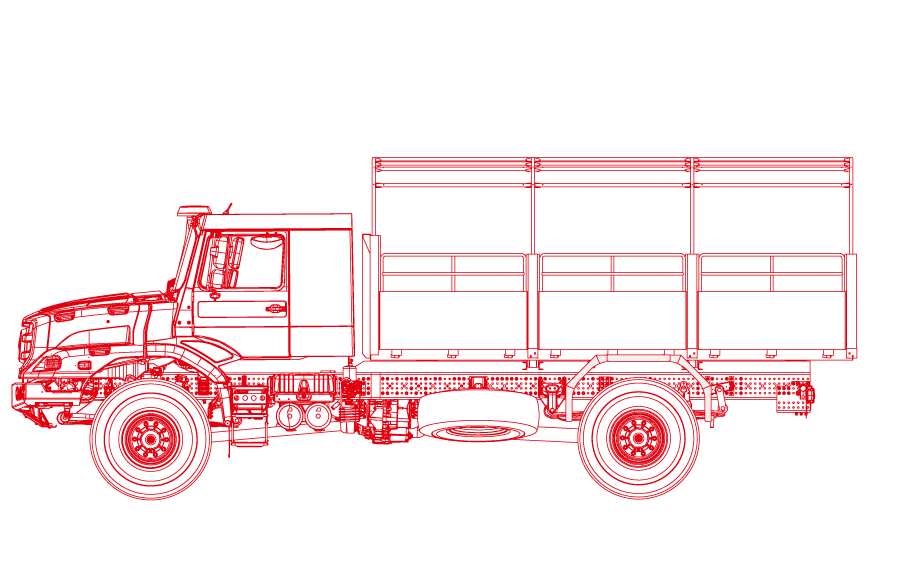 Maximum versatility in on- and off-road use, thanks to patented high terrain-compatible structure bearing
Platform and flatbed superstructures with removable seat benches
Foldable and removable steel side plates (drop side body) and removable tarpaulin superstructure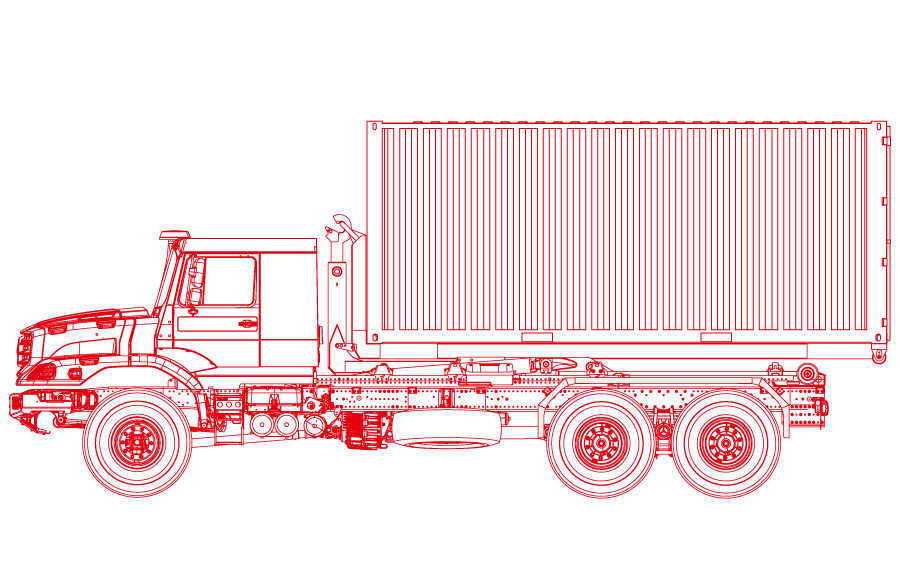 As hook loader or BDF system
Possible structure variants: platform with/without crane, container frame, fuel tank, water tank, suction-pressure tank, service and maintenance structures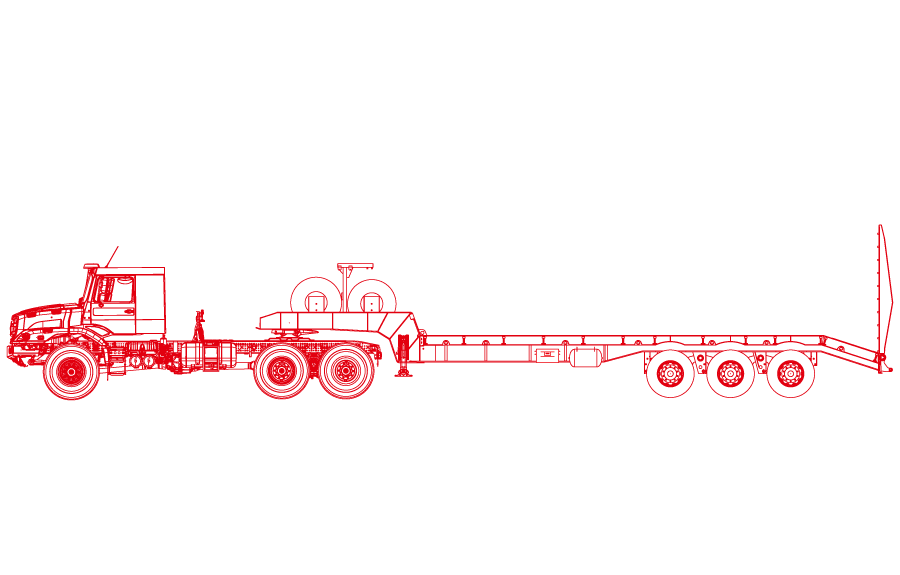 Platform semi-trailers and low-loaders
Availability as 2-, 3- and 4-axle variants
With up to 20 t axle loads per axle and up to 75 t payload in a steel version (150 t for a low-loader)
BPW leaf suspension and air suspension
Single or twin tyres
Coupling height adapted to the tractor with 2″ and 3 ½" king pins
Additional equipment for winch operation possible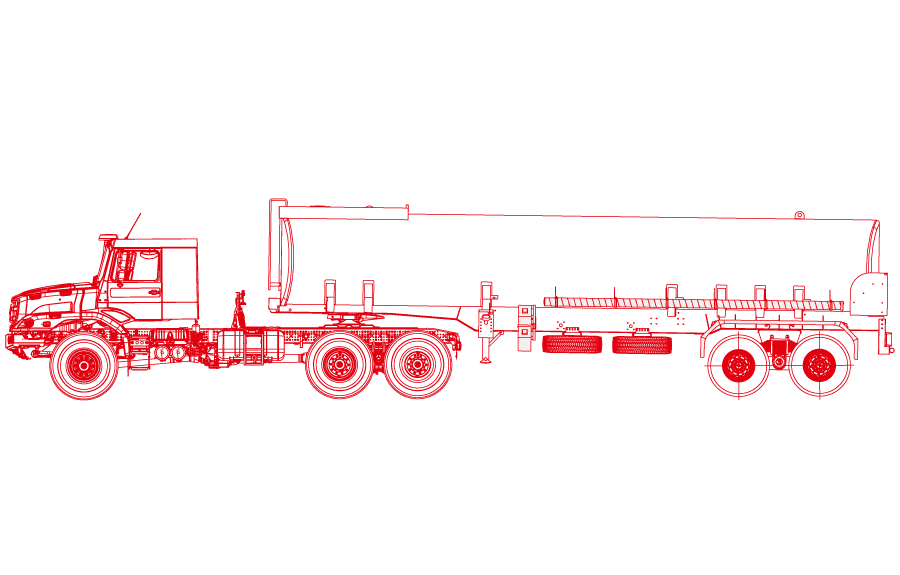 High-quality, corrosion-resistant materials (steel, stainless steel or aluminium)
Tank volumes of between 20,000 ltrs – 60,000 ltrs
Availability as 2-, 3- and 4-axle variants
BPW leaf suspension and air suspension
Single or twin tyres
Coupling height adapted to the tractor with 2″ and 3 ½" king pins
Optimum discharge performance in all conceivable unloading situations
High-quality, manoeuvrable, compact design, with the maximum possible load volume
For fuel tank semi-trailers:
For transporting diesel, gasoline or kerosene
International standards in the dangerous goods sector
Conventional connections such as Camlock, TW and Guillemin couplings
Different Pumps with a delivery volume of up to 1,000 ltrs/min. (driven by diesel engine or tractor hydraulics)
Various different measuring systems, hose reels, different chamber divisions
For water tank semi-trailers:
Version for drinking and service water
Conventional connections such as Camlock, Storz and Guillemin couplings
Different Pumps with a pump outputs of up to 1,000 ltrs/min. (driven by diesel engine or tractor hydraulics)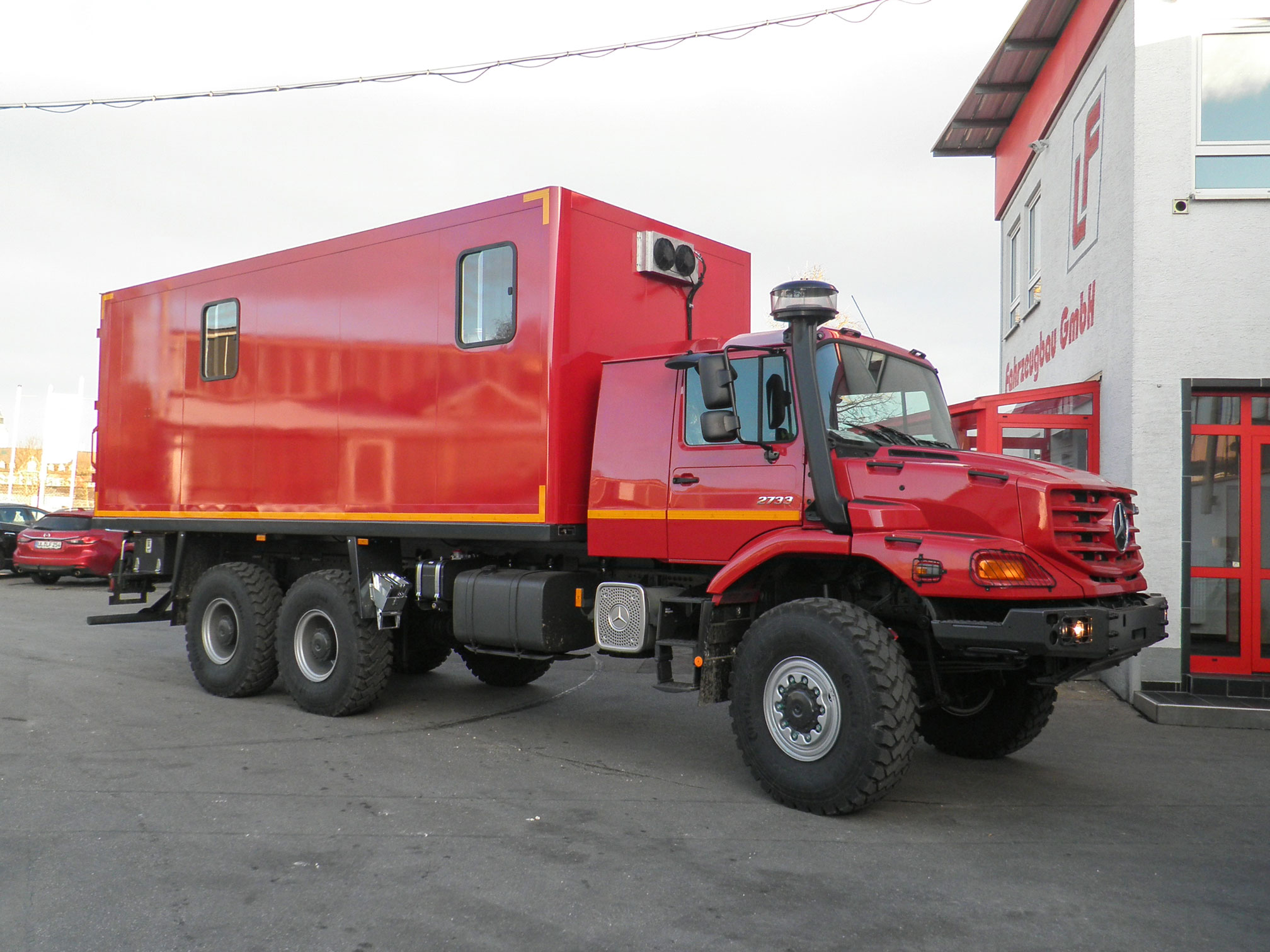 Service-lub superstructure on Zetros 2733A/6x6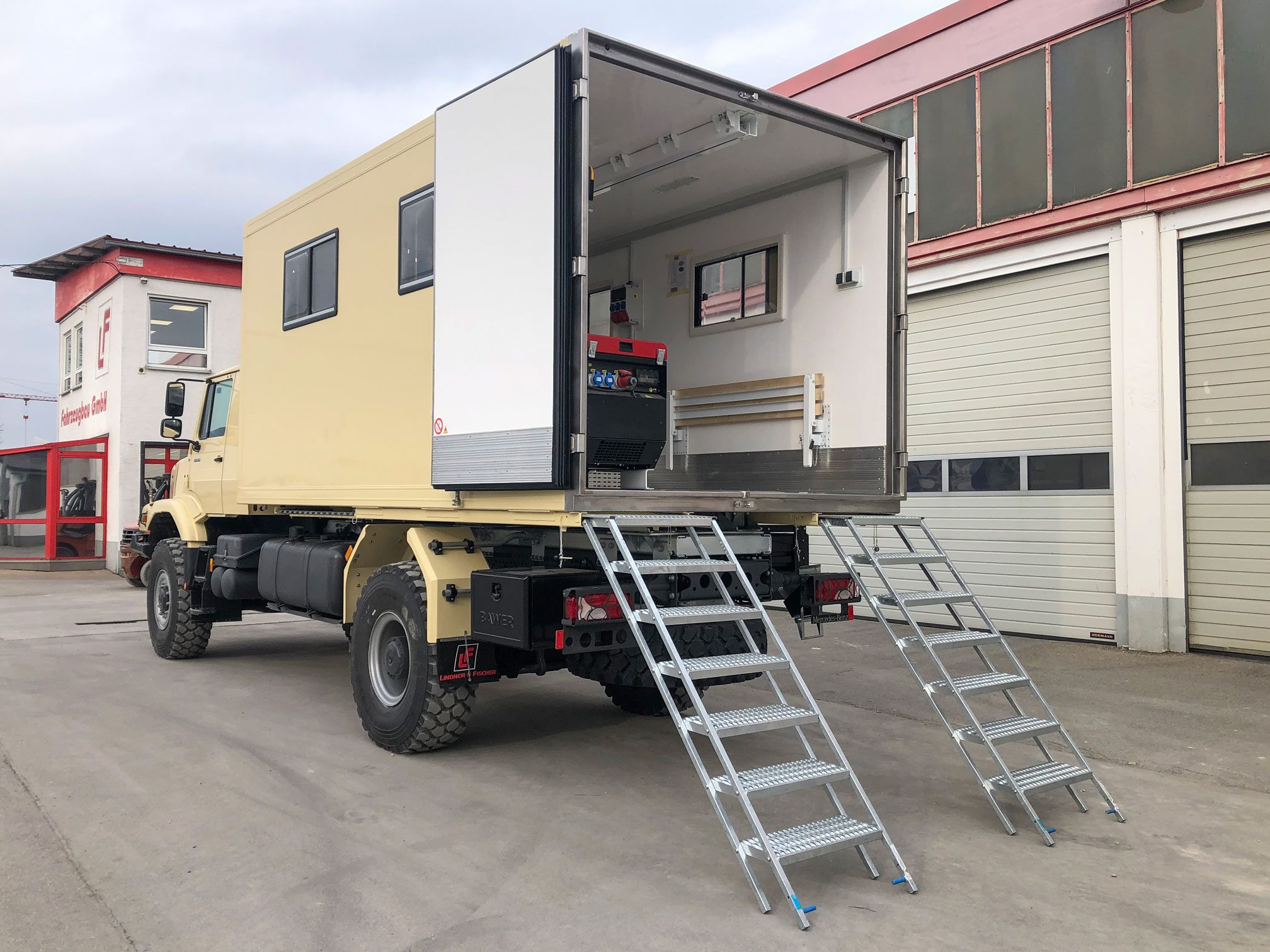 Box body with mobile workshop on Zetros 1836A/4x4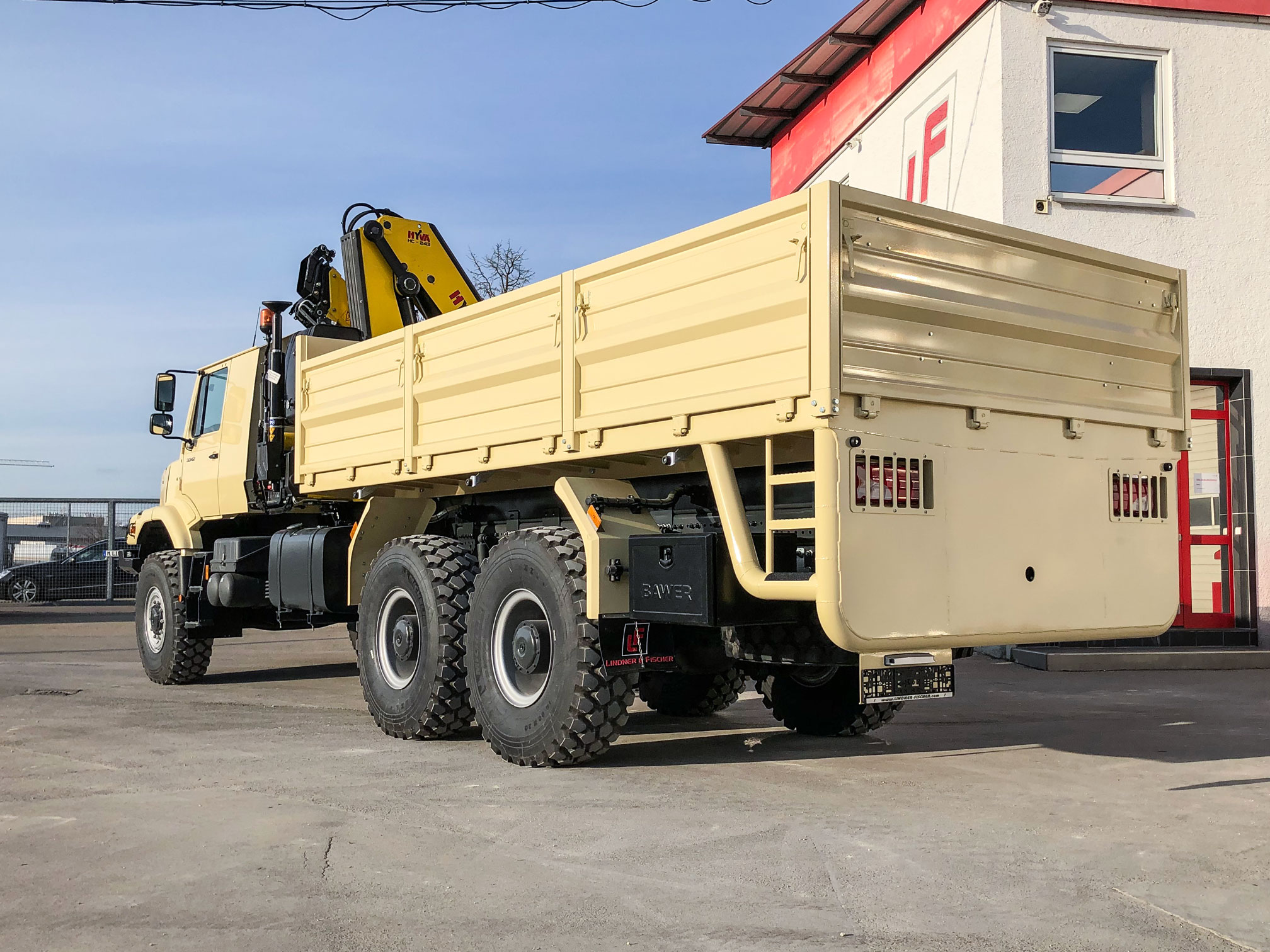 Heavy-duty platform with loading crane behind cabin on Zetros 3342A/6x6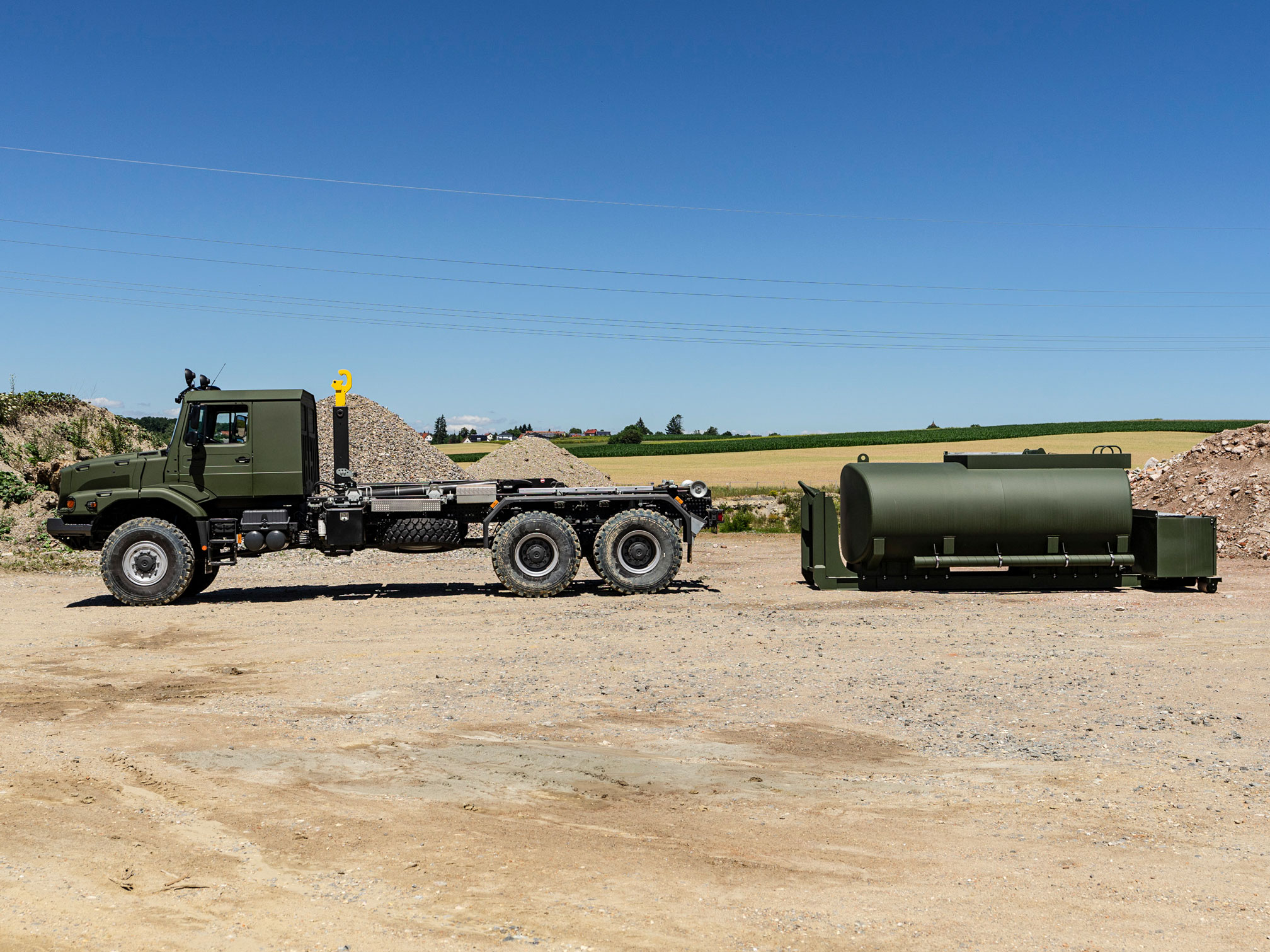 Interchangeable system with hook loader and fuel tank on Zetros 3042A/6x6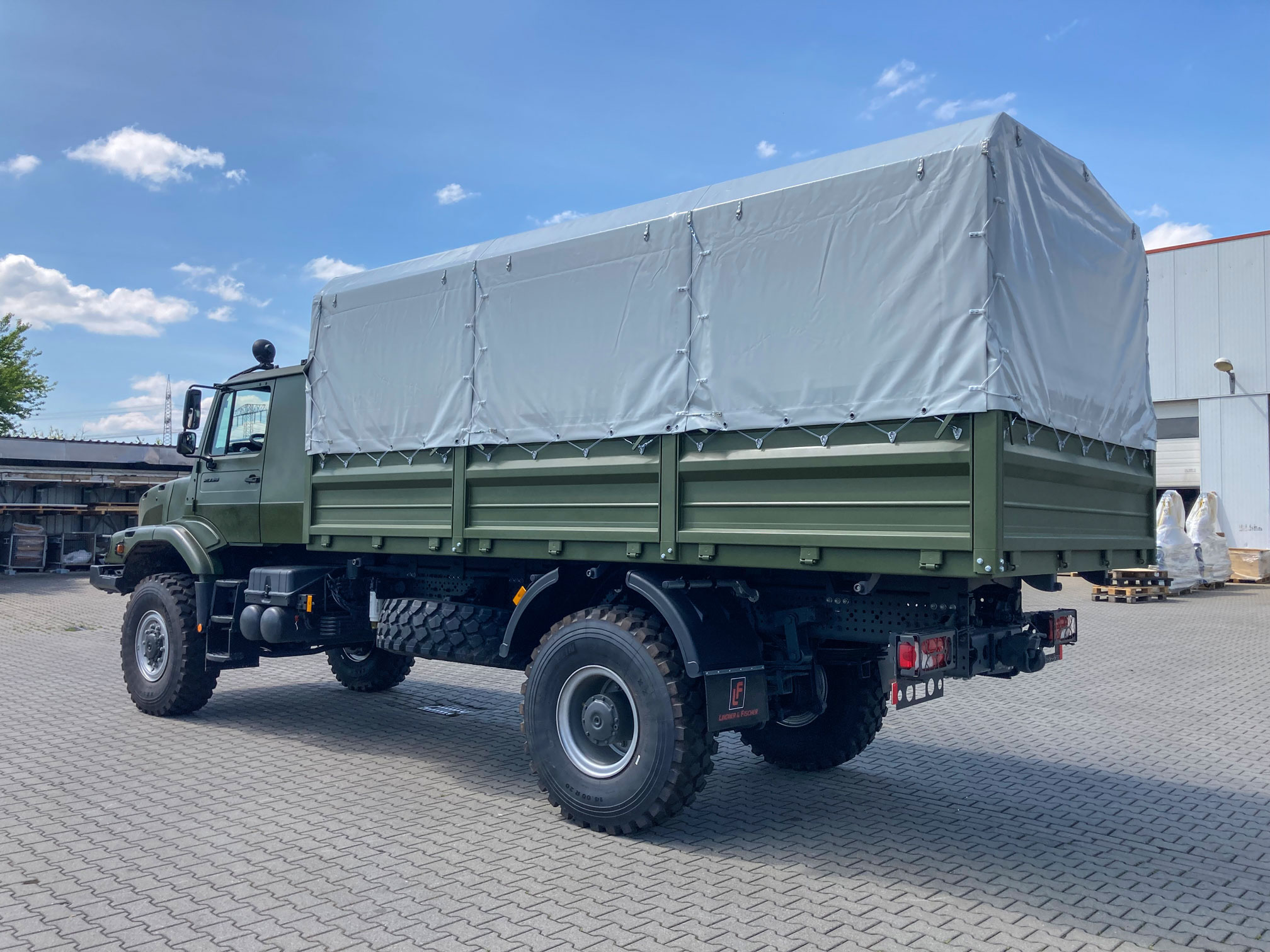 Flatbed superstructure with foldable steel side plates and removable tarpaulin superstructure on Zetros 2036A/4x4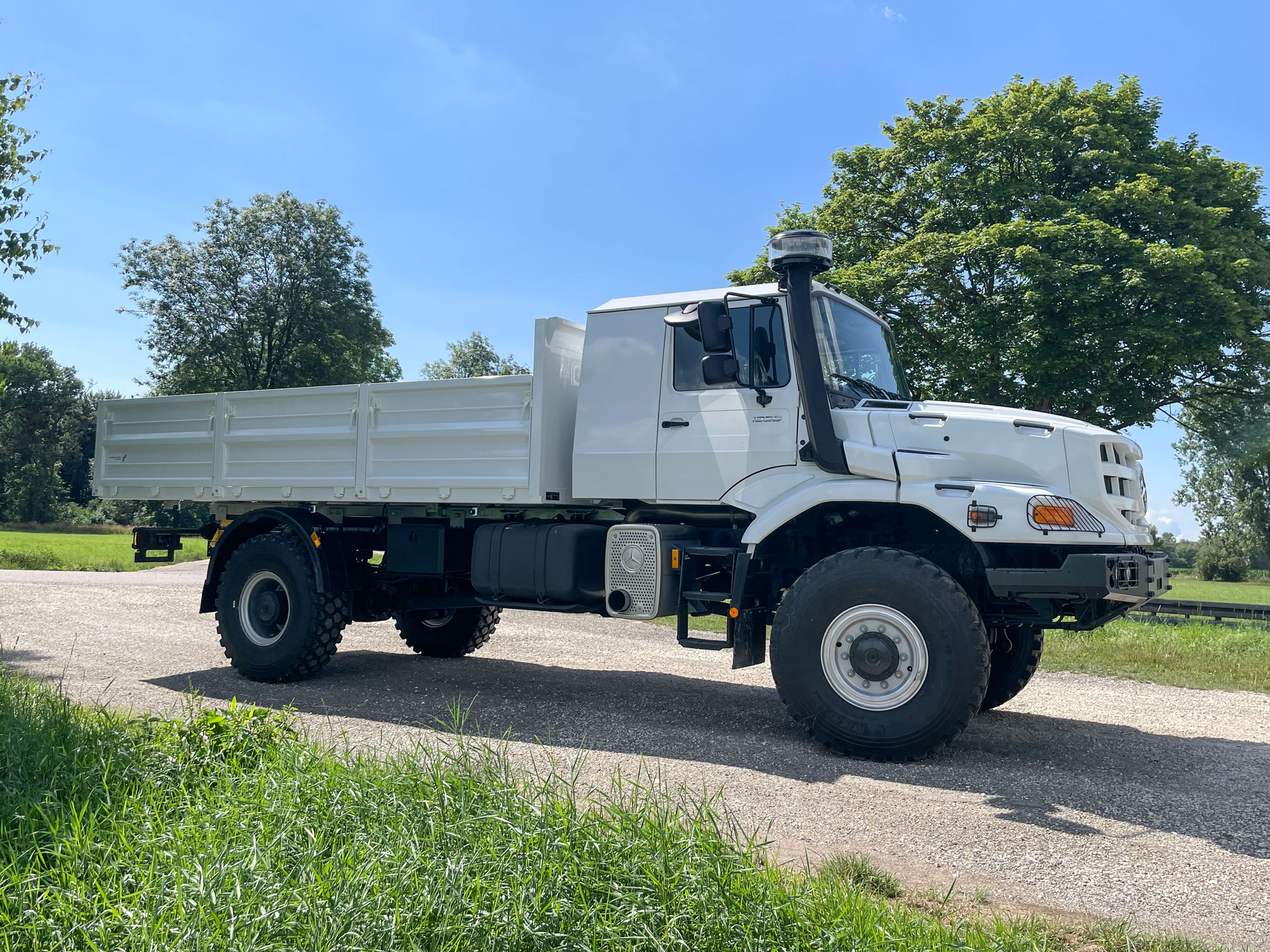 Flatbed superstructure with drop-side body on Zetros 2036A/4x4
3-axle low loader with tractor Zetros 3342AS/6x6 (50 t payload, with leaf suspension and twin tires)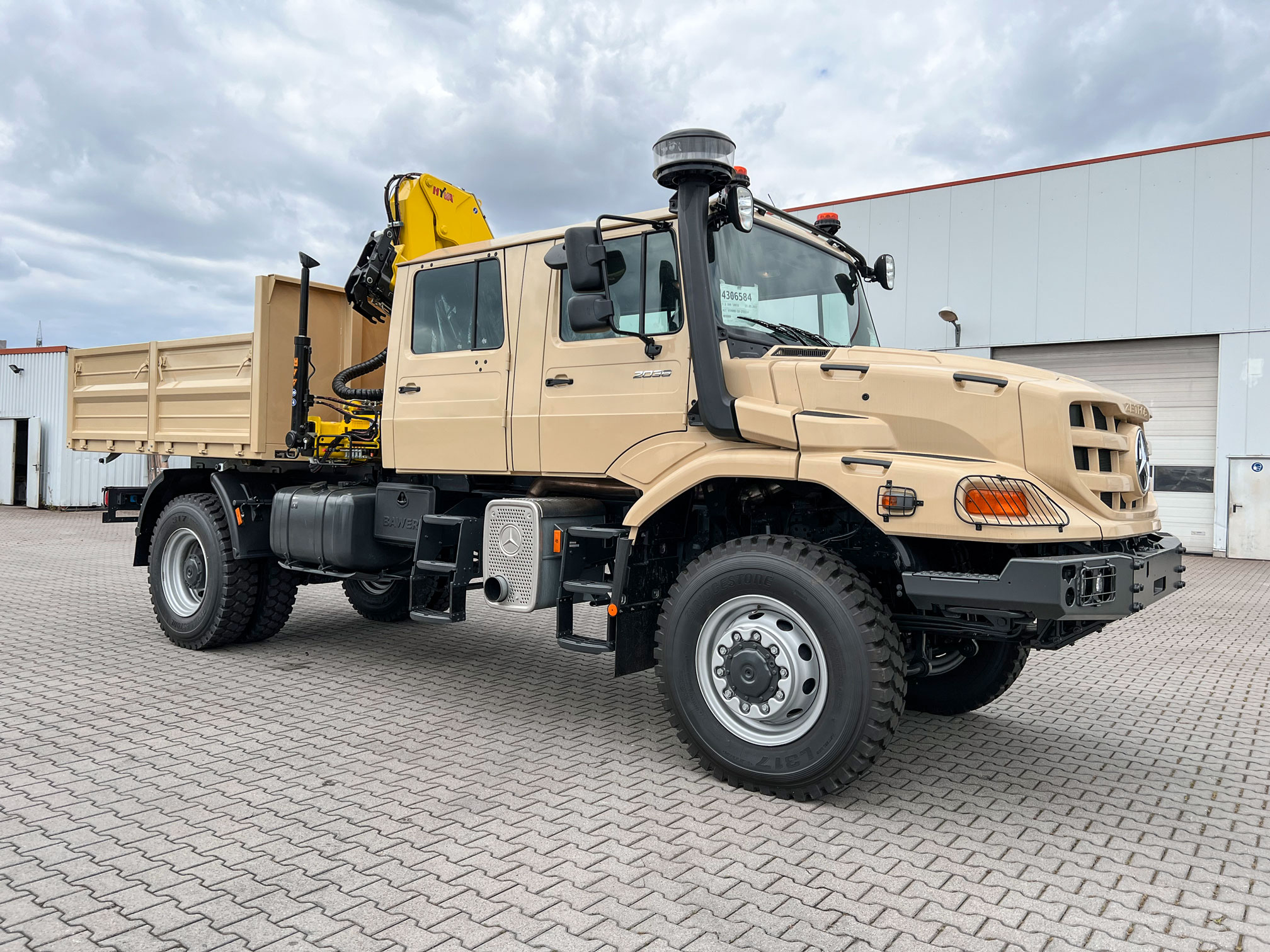 Flatbed superstructure with crane behind double cabin on Zetros 2036A/4x4
2-axle tank semi-trailer (drinking water, 36,000 liters) with tractor Zetros 3342/6x4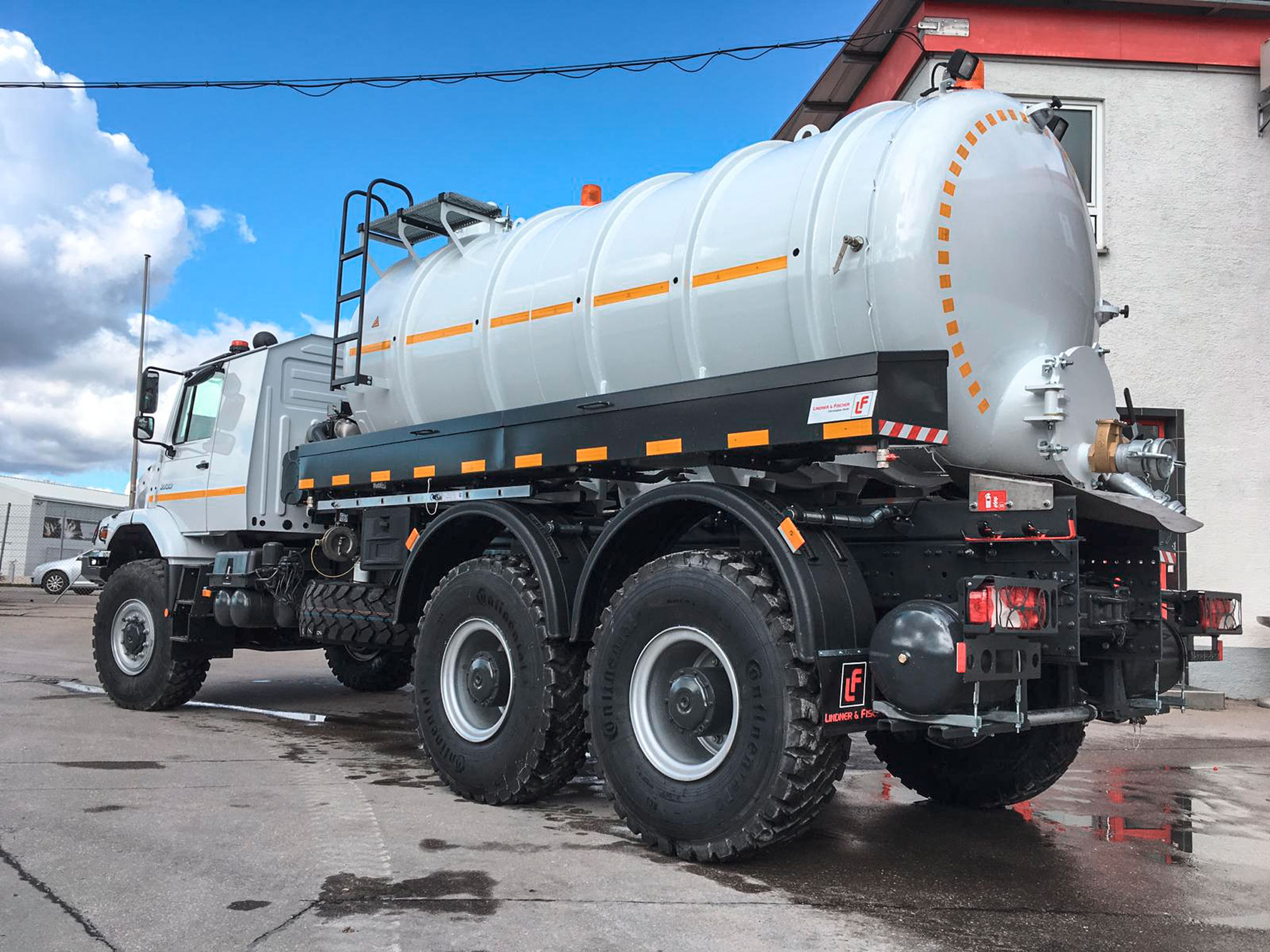 Tank superstructure (fuel, 10,000 liters, with pump 500 ltrs/min) on 2642A/6x6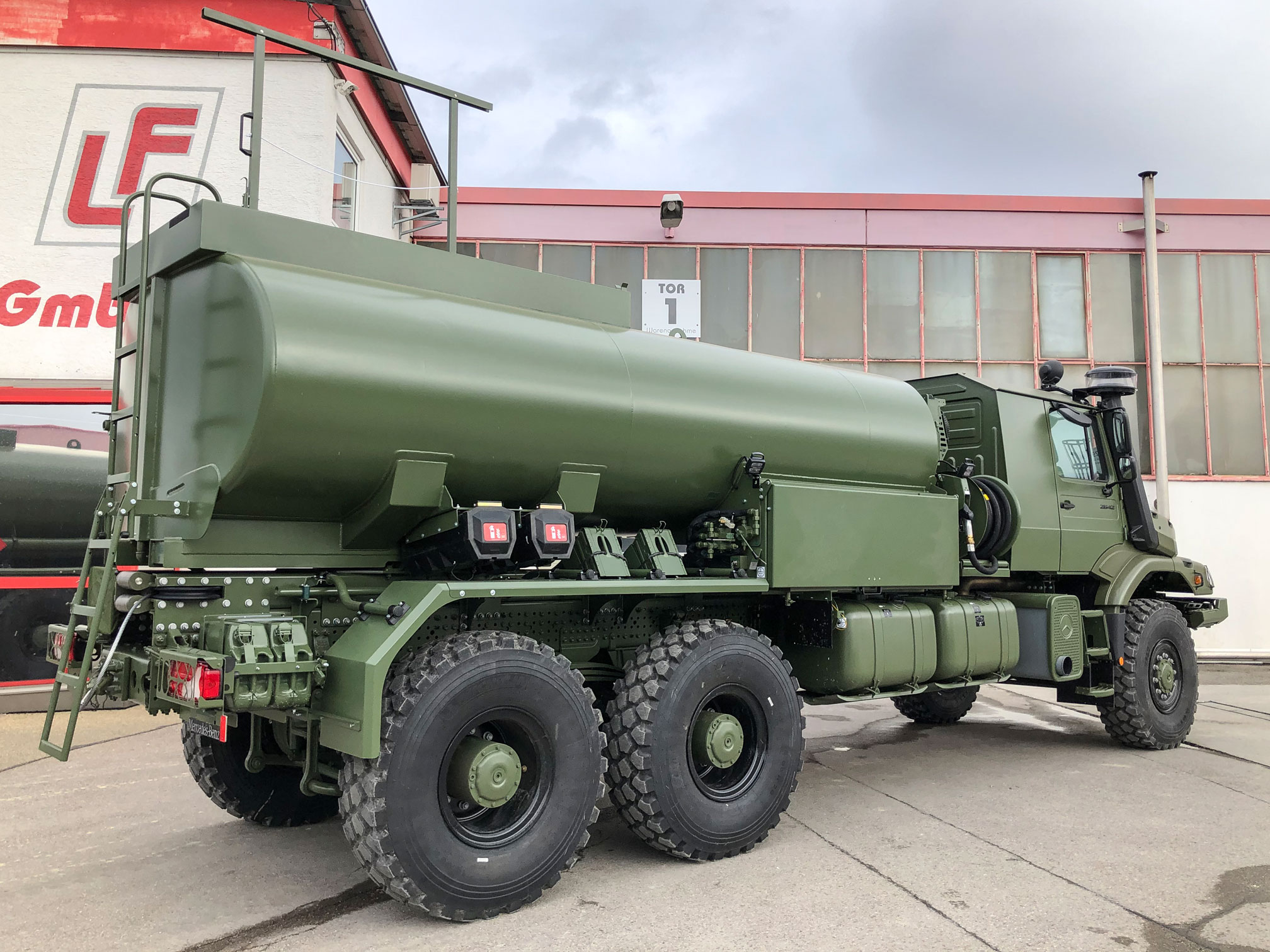 Suction-pressure tank superstructure (vacuum tank body, 10,000 liter, with pump 732 m³/h) on Zetros 2733A/6x6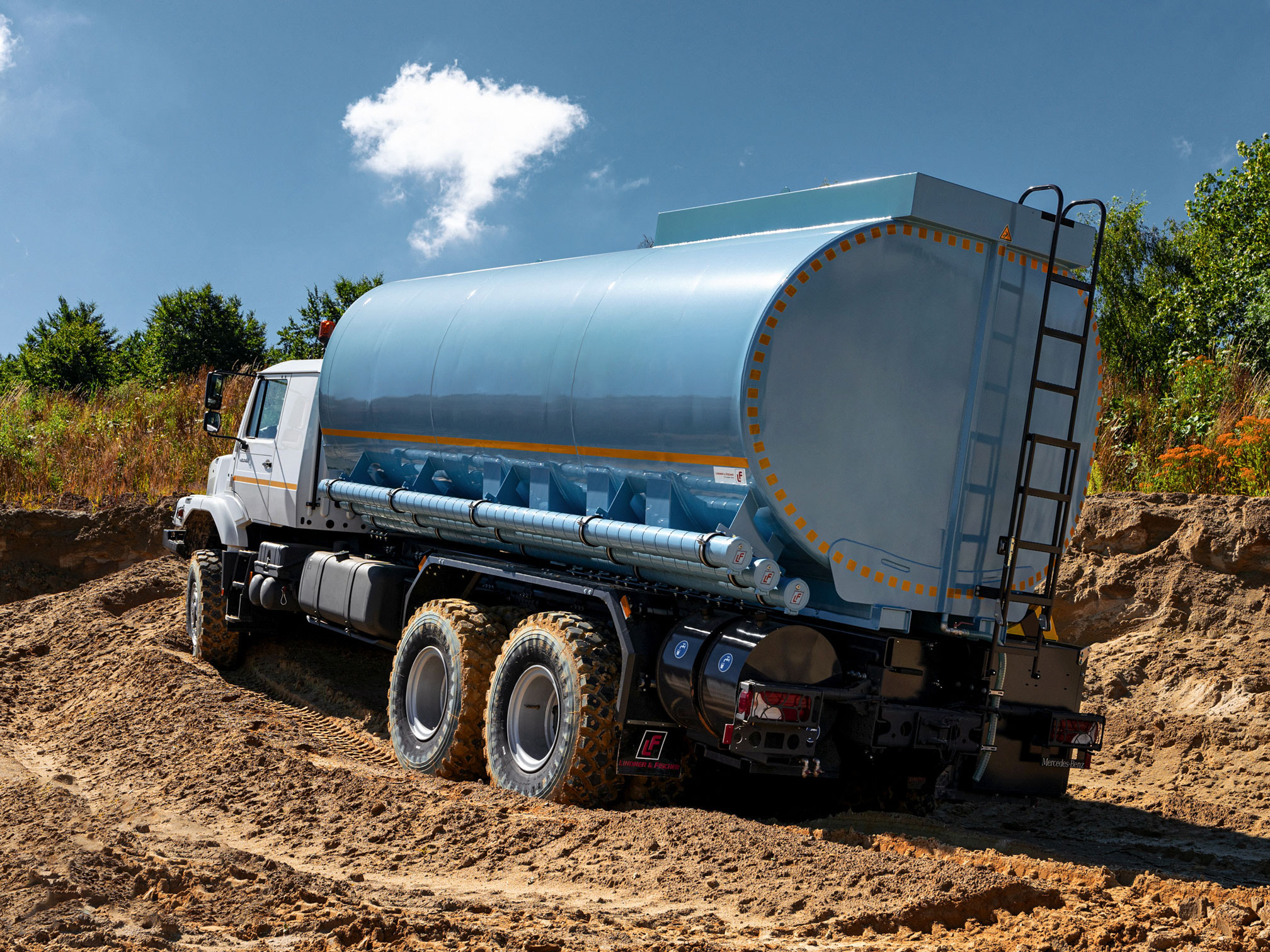 Tank superstructure (fuel, 25,000 liters, with pump 600 ltrs/min) on 4042A/6x6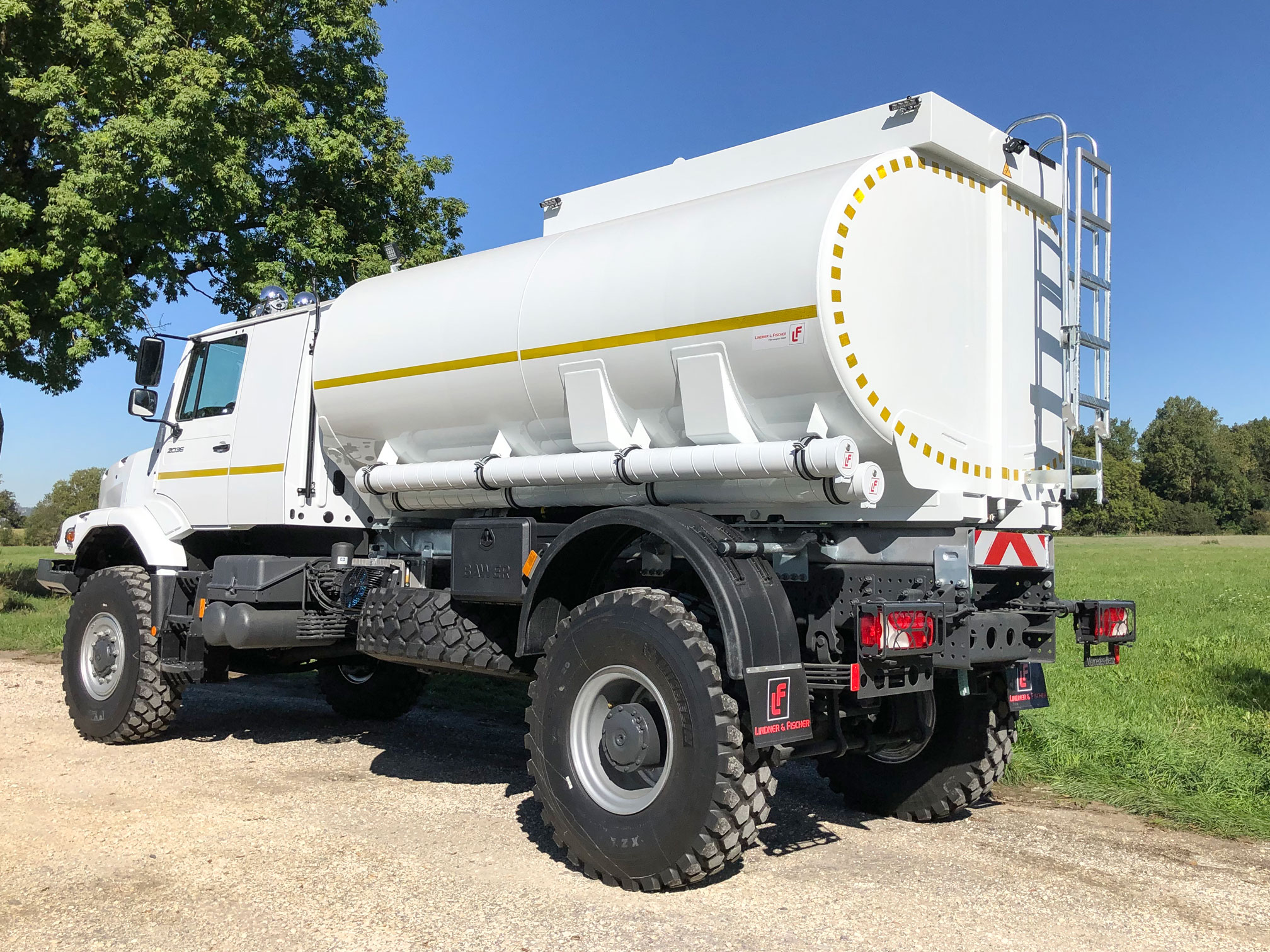 Tank superstructure (fuel, 10,000 liters, with pump 500 ltrs/min) on 2642A/6x6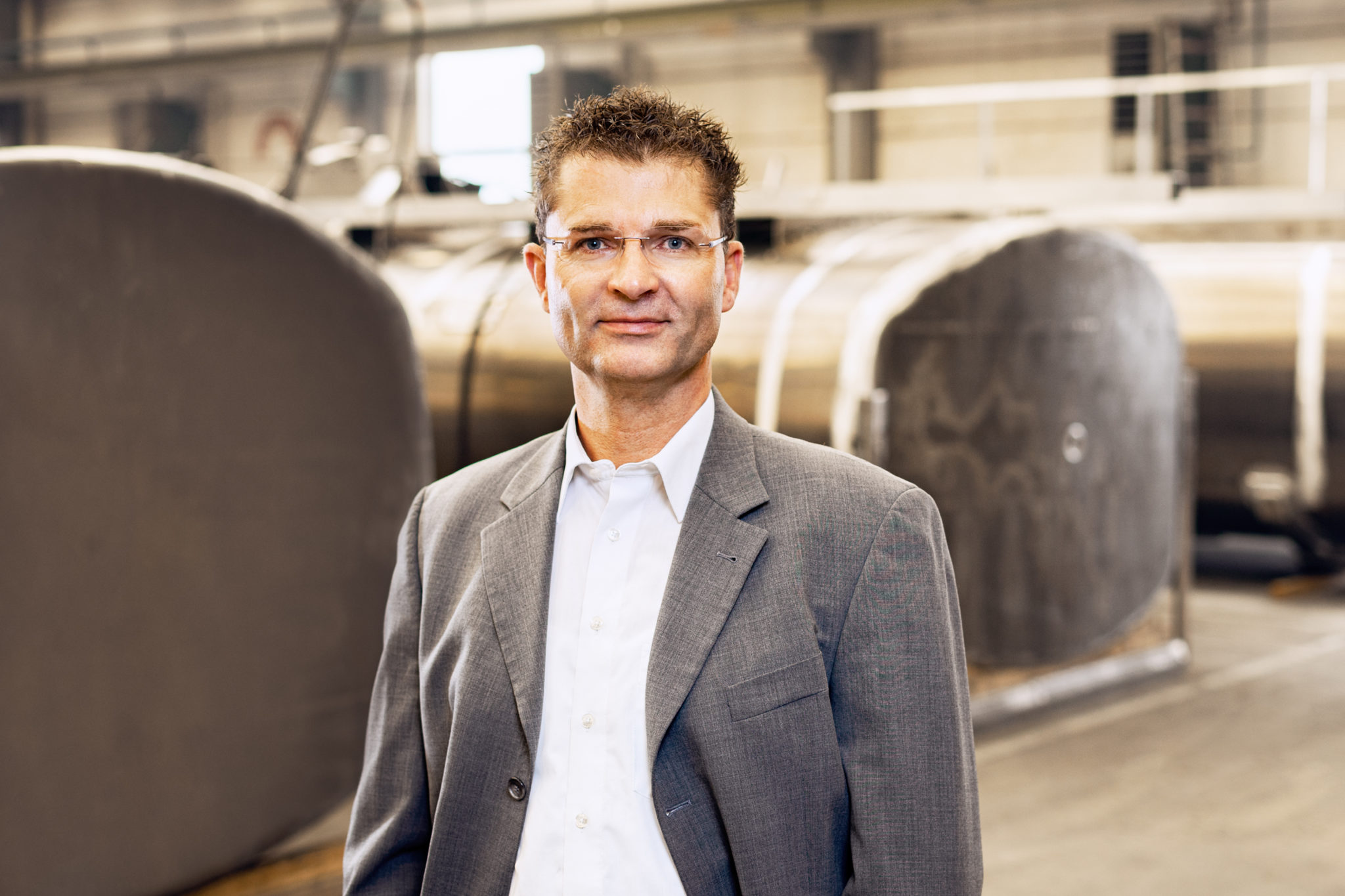 Harald Doll
General Management
Sales Manager Export / Overseas
+49 7345 9614-0
info@lindner-fischer.com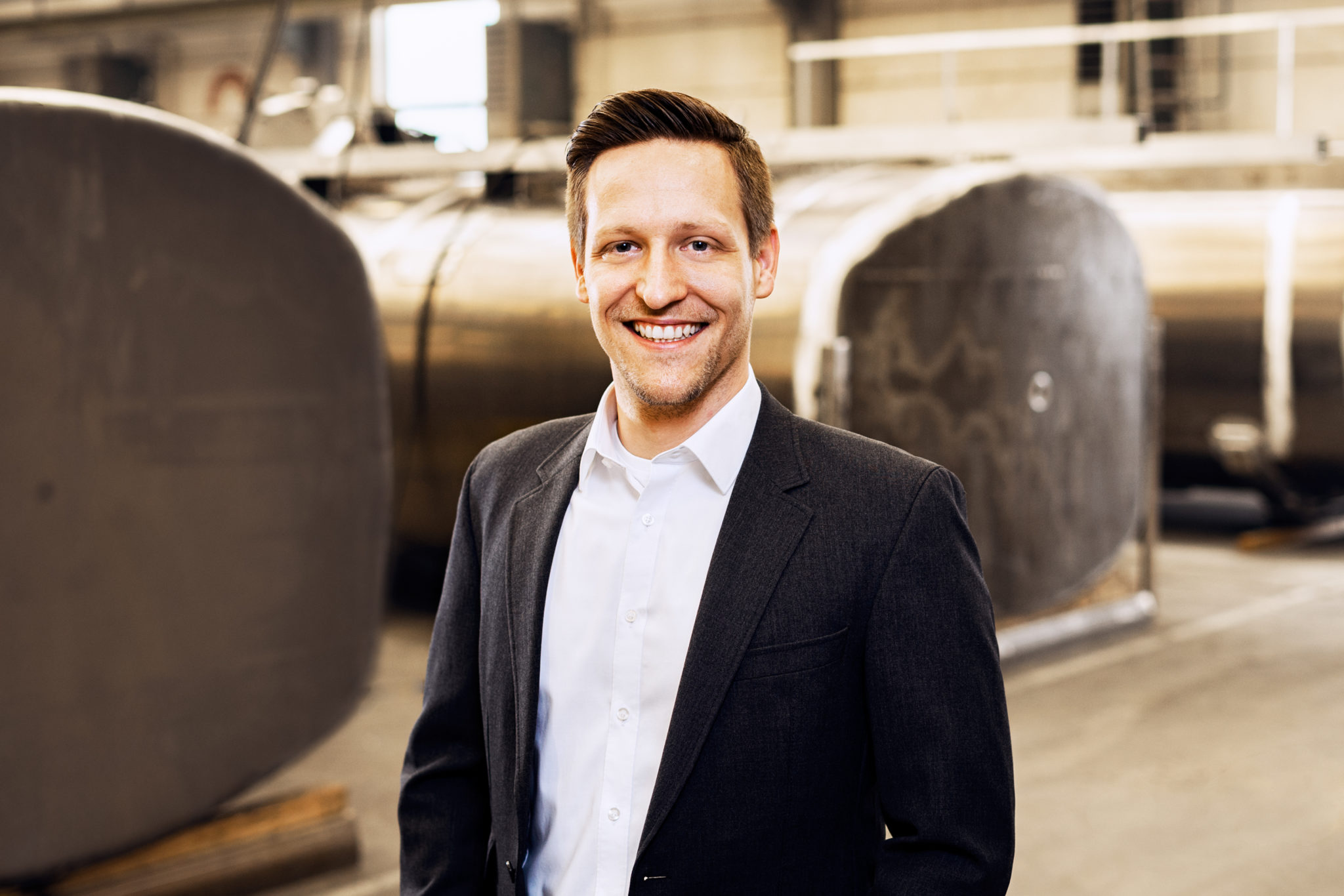 Stefan Lindner
General Management
Sales Manager Europe
+49 7345 9614-0
info@lindner-fischer.com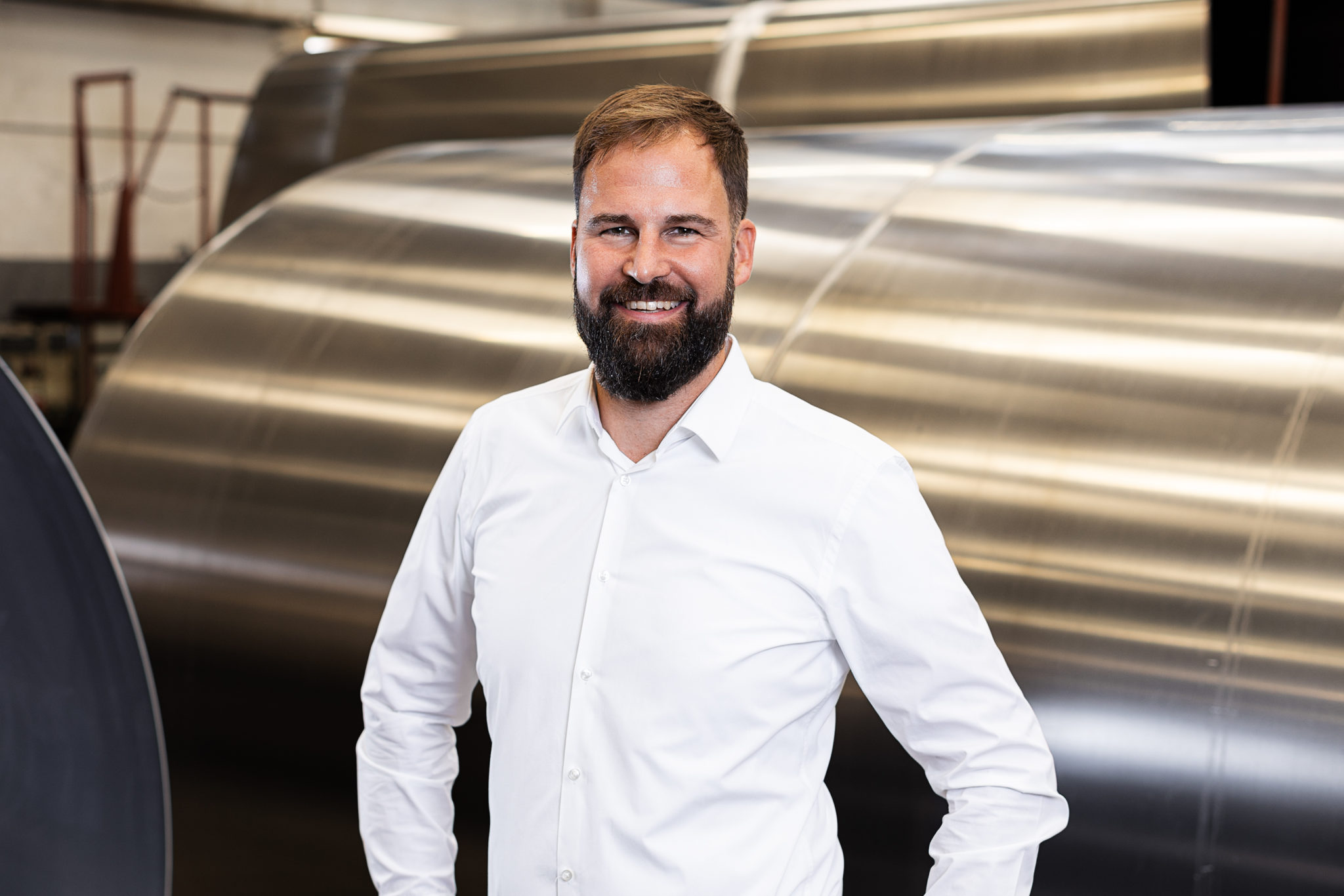 Lars Parzanka
Sales vehicles for defence & authorities
l.parzanka@lindner-fischer.com
+49 170 920 67 24
+49 7345 9614-51